Powered by:
Richard K.C. Ling, Broker
Harvey Kalles Real Estate Limited, Brokerage
ProfessorDalysHockleyHideaway

Architect Garth Norbraten Hockley's Best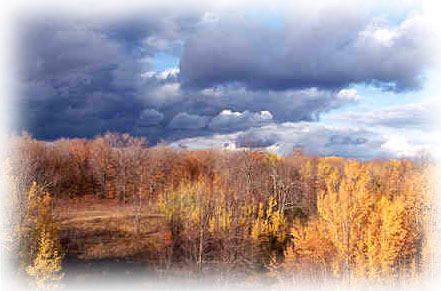 Richard's Notes
Unique.
Professor Daly teamed up with Mr. Norbraten to create a hideaway that is truly the ultimate in form and function. A creative and practical fusion from Professor Daly's accomplished Urban Regional Planning background and Mr. Norbraten' s style which reminds of many elements of Frank Lloyds Wright's philosophy and characteristics.
Appropriate Technology Directly from Professor Daly:
The house was designed to take advantage of solar heating in winter and summer breezes for cooling without the need for air conditioning. It is located on an east-west axis and has a large roof with wide eaves. This ensures that the summer sun (which is high in the sky) does not heat the house during the warmer months. But when the sun is low in the winter months it shines through the thermopane windows which then help to heat the house; the low angle of the winter sun allows sunlight to enter the house and warm up the slate floors, which transmit heat to the entire
house.
The house takes full advantage of its site: the east deck faces the morning sunrise, the west deck enjoys beautiful sunsets, and the top deck is ideal for a rooftop garden and for entertaining. The orientation of the house provides cross-ventilation in warmer weather; the main floor has twelve awning windows along with two ceiling fans; the combination of these two design elements ensures a constant cooling breeze in the summer. The same design was used in the loft which has awning windows on north and south as well as sliding glass doors opening on to the east-facing deck. The architect also designed the rooms such that each one has sunlight on at least two sides, making for a very bright, sunny interior.
Low Maintenance
The grounds comprised of rock pathways, pergola, a small pond with waterfall and wild gardens.
Privacy
The property is situated in a cul-de-sac 5 minutes north of Adjala Side Road 20. (This is a public road and is plowed with great regularity during the Winter months.) It is then set back behind mature foliage. It comprises of a Main Unit with an adjacent loft with separate entrance for visiting guests in 25 acres on the apex of a slow rise.
Scenic Surroundings and a Good Neighbour
The property is located in the scenic Hockley Valley, six minutes north of the hamlet of Hockley, where the Niagara Escarpment and Oak Ridges Moraine meet. It is adjacent to a conservation trust and Sheldon Creek. It comprises of rolling meadows with wildflowers, a wooded ravine and some forest. IN the meadows and woods near the house are deer, wild turkeys (I have seen a few perching on the branches), foxes, hawks, owls, an occasional eagle, geese, ducks together with some 50 varieties of birds. A naturalist delight indeed!
Professor Daly has commissioned Mr. Norbraten for a smaller dwelling in the neighbouring 25 acres.
Structure
Completed in 1999, the house was engineered to a high standard. It is exceptionally well-built with super-strong wooden I-beams under all floors. The entire house is insulated to R27 standards, which helps to keep the building cool in the Summer and warm during the Winter.
The exterior is board-and-batten, stained Cape Cod Gary, and the roof is cedar shingles. The overall dimensions of the roofline are 84 feet long by 33 feet wide.
Easy Access

Shy of an hour from Toronto - 5 minutes off Airport Road

50 minutes to Collingwood

5 - 10 minutes to Bruce Trail, Mono Cliffs Provincial Park, the Hockley Valley Resort and Loretto Ski Resort

25 minutes to Bolton

20 minutes to Orangeville

12 minutes to Alliston
Main Suite

First Level 1141 sq. ft.

Foyer

Black Vermont Slate Floors

Breakfast Alcove

Black Vermont Slate Floors

Floor-to-ceiling Windows (middle row may be opened)

Living

/Dining

Room

23.39' x 23.00'

Hardwood Floors (natural oak with 7 coats of polyurethane)

Cathedral two storey ceiling with ceiling fan

Woodstove

Walk-out to West Deck (12' x 14') which is covered by the Roof Overhang. An unobstructed view to the west and south.

Kitchen

11.61' x 10.20'

Black Vermont Slate Floors

Custom Built-in Cabinets by Ivan Woolner of Alliston

Opens to Living/Dining Area with Breakfast Alcove beyond the south egress and Study beyond the north egress

Double Sink

Pot hangers

Study

11.97' . 9.71'

Black Vermont Slate Floors

Custom Built-in Bookshelves by Ivan Woolner of Alliston

Floor-to-ceiling Windows (middle row may be opened)

Second Level 552 sq. ft.

Master Bedroom

15.29' x 10.83'

Broadloomed

Walk-in Double Closet

Open Concept overlooking Living/Dining Room

Ensuite Bathroom

Black Vermont Slate Floors

4 pcs

Third Level

Rooftop Deck (Widow's Walk)

Cedar Strips over Rubberized Roofing Material

Wrap around with 360 degree view

Lower Level

1090

sq. ft.

Family Room

24.60' x 16.89'

Broadloomed

Bedroom No. 2

10.79' x 10.79'

Broadloomed

Bedroom No. 3

10.10' x 10.10'

Broadloomed

Walk-out to Flagstone Patio

Laundry Room

8.89' x 5.41'

Bath Room

4 pcs
Loft Suite

Foyer Landing

Walk-up to Loft

Loft

600 sq. ft.

Broadloomed with extra insulation for warmth in the winter months.

Napoleon Stove

Walk-out to 9' x 12' Deck facing East. It enjoys spectacular morning sunrises and sweeping view of the ravine and pine forest just east of the house.

Awning windows on both sides of the loft, plus a ceiling fan, ensure good cross ventilation.

Double Wall and extra sound insulation built between the Main and the Loft Suite ensure absolute privacy.

Ensuite Bathroom

4 pcs

Vinyl Flooring

Kitchen

Built in Oak Cabinetry

Vinyl Flooring
Garage

(24' x 24') 576 sq.ft.

Well lit

Awning windows on two sides

Two nine-foot automatic and insulated doors
33 Seconds to Open with a 56.6 kbps modem
GreatCanadianCountryEstates Home
Telephone: 416.441.2888 x 522 Cellular: 416.809.0909 /1.888.232.2088
Facsimile: 416-441-9926 Direct Fax: 1(866) 556-0823
Address: 2145 Avenue Road, Toronto, Ontario M5M 4B2 Canada
All information and statements contained here, provided by
Harvey Kalles Real Estate Ltd.
Brokerage
regarding property for sale, rental or financing is from sources deemed reliable and assumed correct, but no warranty or representation is made as to the accuracy thereof and same as is submitted subject to errors, omissions, changes in price, rental or other conditions, prior sale or withdrawal without notice.
Member of the Toronto Real Estate Board