Powered by:
Richard K.C. Ling, Broker
Harvey Kalles Real Estate Limited, Brokerage
TeutonicSplendourandWaterPhantasie-Ganaraska
4597 Ganaraska Road, Clarington (Kendal)
(HWY 35-115/County Road 9)
Ontario, Canada
Stone Mansion with Fully Self Containing Guest Wing in ~14.43 Acres
(Additional ~15.04 Acres available for $180,000)
$2.88 Million Canadian/ ~ U.S. $2.3 Million
"$4.2 Million Spent by the Original Builder"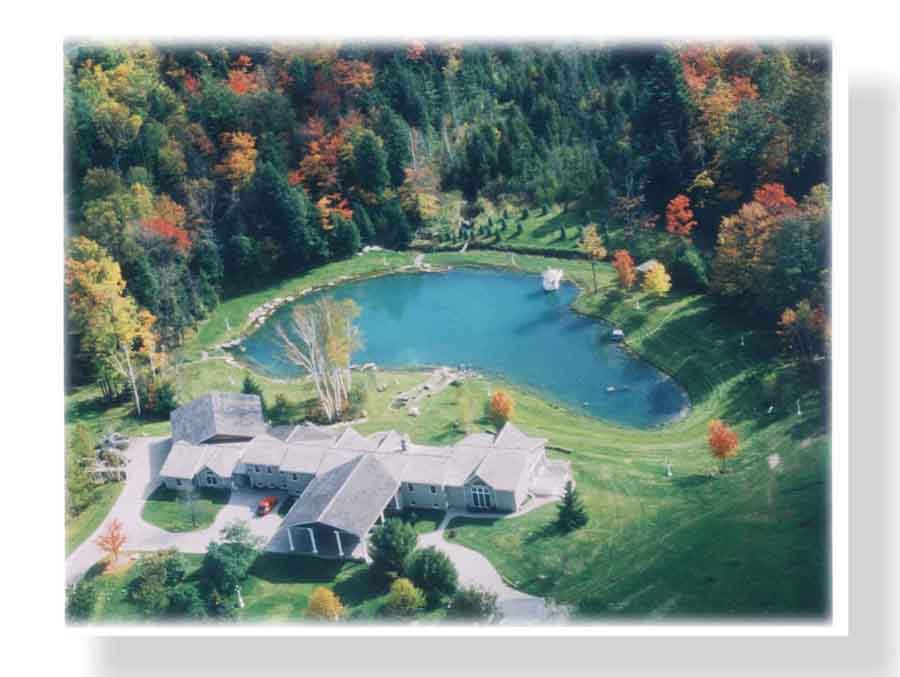 Richard's Notes
Professor Zacharias, a luminary in the field of Economics, an illustrious author and teacher at the Goettingen University, visits our Ganaraska Forest three to four times a year to pen his books. In 1995, he bought the Estate from a Persian Engineering student who studied in Germany and originally plunked down some $4.2 million to build his Canadian Escape on the sprawling forested 6 acres. In 2000, the Professor seized on the opportunity to acquire an additional abutting ~15.04 acres to ensure a perpetual buffering zone - also available for an additional $180,000 (thus totaling close to 30 acres). For the occasional visiting friends and family, the self contained West Wing Guest Quarter - complete with Kitchen, Washroom and Laundry Facility, offers complete privacy from the main house. All principal rooms overlook the Pond/Lake and lush green forests.
With only 50 minutes highway driving North East of Toronto, the Estate is ideal for the occasional escape or easy commute from Peterborough, Northumberland, and of course, Toronto itself.
Notice the "Floating" Fireplace in the Great Room? It is actually 2-Sided with the "Hers" Library/Office

"Hers" Library/Office Above - "His" Library/Office Below

Master Bedroom Suite w/Marble Personal Spa

Master Bedroom Ensuite

Guest Wing Self Contained Apartment

Bed Room in Guest Wing
Links for More Information
(1.18 minutes to Open with 56.6 kbps Modem)
(6 Seconds to Open with 56.6 kbps Modem)
Back to GreatCanadianCountryEstates HomePage
Back to TheLingRegistry HomePage
Telephone: 416.441.2888 x 522 Cellular: 416.809.0909 /1.888.232.2088
Facsimile: 416-441-9926 Direct Fax: 1(866) 556-0823
Address: 2145 Avenue Road, Toronto, Ontario M5M 4B2 Canada