Powered by:
Richard K.C. Ling, Broker
Harvey Kalles Real Estate Limited, Brokerage
WatersEdgeFrontenac-RichardsCastle

on the Canadian Shields & Mighty Mississippi River

3925 Elphin-Maberly Road
CDN $388,000/~U.S. AT PAR!
"Richard's Stone Castle" (Castles & Kings - Ontario Mansions by Ron Brown) c 1886 - 1916 was named after William Richards
He was a "Lumber Baron" hailed from North Adam's Massachusetts, U.S.A. The "Castle" is on approximately 1.5 acres with 300' waterfrontage on
the Canadian Mississippi River - with head waters north of Palmerston Lake and eventually ending in Ottawa.
It is a stone's throw away from a cluster of sizeable timber homes on Palmerston Island.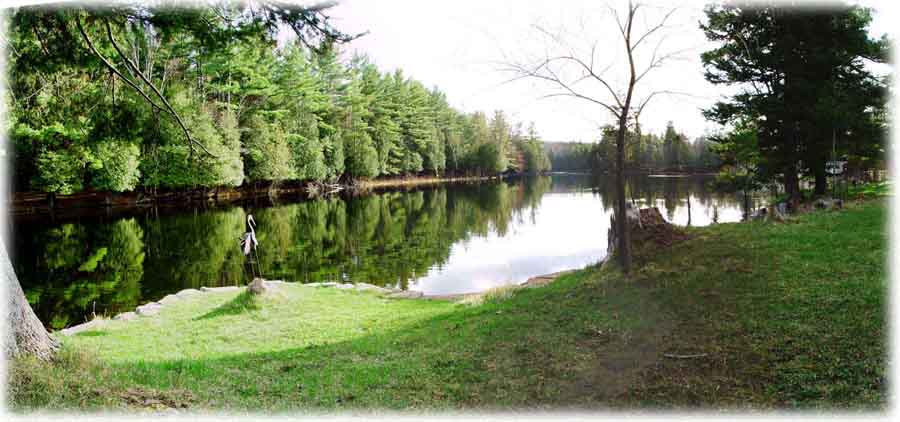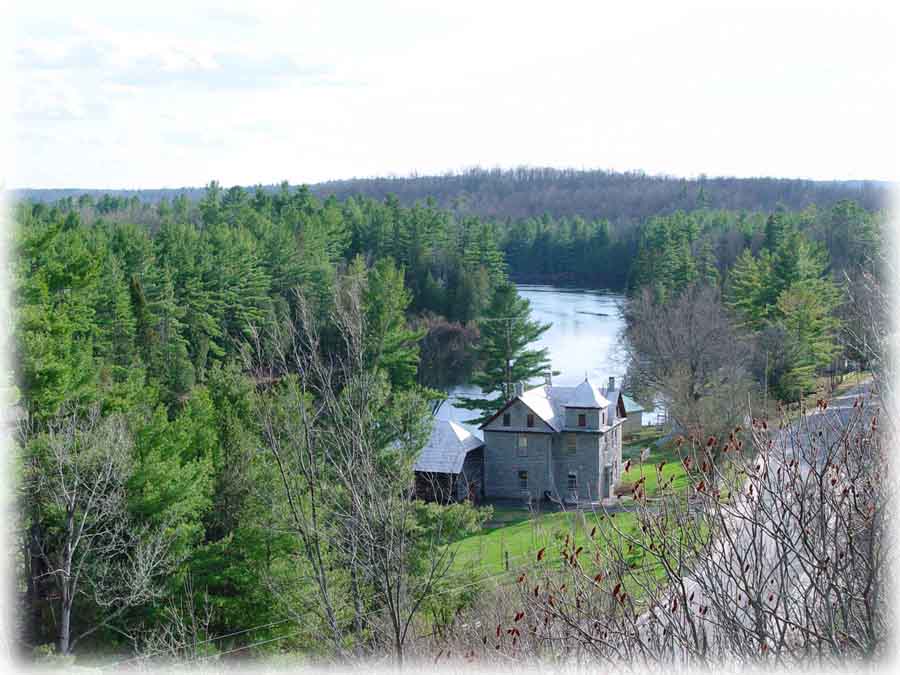 Richard's Notes
I have always been fascinated by the Canadian Shield landscape since I took over a project in Perth a few years back. The rock formation and the flora are quite literally out of this world. Just minutes away from "Richard's Stone Castle" are waterworks & ponds that looks like a set in the Lord of the Rings.
Richard's Stone Castle
I am quite tickled with the name sake. I LOVE THE MISSISSIPPI RIVER! The grounds are just AMAZINGLY MAGICALLY! Ample room for a nice vegetable garden!
The "Castle" is quaint, spacious - yet smaller than what I would imagine the nomenclature conjures, around 900 sq.ft. per level. I love the "hidden" bedroom that goes off from another bedroom. Janice did a great job restoring the place. There are unique pieces throughout - they are quite subtle - you only notice them when they are pointed out. Such as the Cedar Closet in the Foyer with a pull out drawer utilization the antique handles; the originally strawberry red stain glass in the doorway; the original "leopard" painting on the pocket doors; the "Architectural Embossed Rubberized Tapestry Ceiling" (imported from Germany); the built-in Dish Rack on the Lower Level of the Upper Cabinetry over the Sink; the original and then, the "Tower Room" (8' x 8') in the unfinished attic would form a great Atelier from one of the bedrooms with a spiral staircase. The Century Barn attached to the House would be a great play room for the kids!
Miscellaneous Details

Izatt Lake, Miller Lake, Stump Lake is a quaint waterway of a river system known as the Mighty Mississippi, with head waters north of Palmerston Lake and eventually ending in Ottawa

K & P Trail is an elaborate trail from Pembroke to Kingston. This is an old rail bed featuring the area's primordial landscape. It is accessible from country gravel roads and paths not far from the castle.

Link O'Taye Golf and Country Club in Perth is Canadian's Oldest Golf Club

McDonald's Corners - "The School House" is an old one room schoolhouse converted into an arts and recreational centre operating year round. The hamlet is also known for its Maple Syrup and Pancake Houses. Many of the area's artists live and work here and will open their studios to the public during weekends in the summer.

Maberly is another small village with the area's "best" organic food chef at its Country Restaurant. The Country Store is a popular spot to buy area artisans' works.

Brooke Valley artist colony. Every year during Thanksgiving weekend, the colony opens up all studios to the public with an extravaganza of art, food and eclectic country flair.

With all these activities in the area along with the unique primordial landscape, may be that's why our Bank of Canada Governor, Mr. David Dodge, choose to live in nearby Elphin, about 5 minutes from "Richard's Stone Castle".

2 Hours to Montreal

3 Hours to Toronto

15 Minutes to Perth, Lanark Highlands or Westport

Minutes to the Rideau Canal System
1.30 Seconds to Open with a 56.6 kbps modem
.9 Seconds to Open with a 56.6 kbps modem
GreatCanadianCountryEstates Home
Telephone: 416.441.2888 x 522 Cellular: 416.809.0909 /1.888.232.2088
Facsimile: 416-441-9926 Direct Fax: 1(866) 556-0823
Address: 2145 Avenue Road, Toronto, Ontario M5M 4B2 Canada
All information and statements contained here, provided by
Harvey Kalles Real Estate Ltd.
Brokerage
regarding property for sale, rental or financing is from sources deemed reliable and assumed correct, but no warranty or representation is made as to the accuracy thereof and same as is submitted subject to errors, omissions, changes in price, rental or other conditions, prior sale or withdrawal without notice.
Member of the Toronto Real Estate Board