Powered by:
Richard K.C. Ling, Broker
Harvey Kalles Real Estate Limited, Brokerage
A Great Canadian Country Estate Select Property

55 Stewart Drive

at Choice Winfield Shores
CDN $850,000/~U.S. At Par!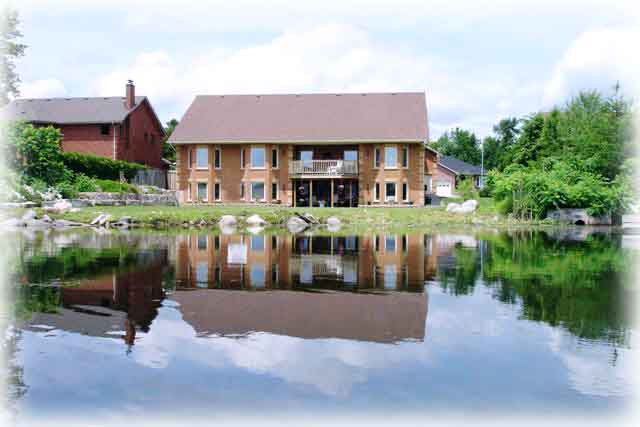 Richard's Notes
There must be a septuagenarian musician in the household - maybe he knew the Fab Four; after all, he was from England.....that may explain the sound proof media room on the lower level.
When Wendy decided to build her dream home a few years back, she invited her parents to stay with her; for a while anyways, as her mother prefers staying the UK most of the time now. The lower level was made to accommodate a genteel lifestyle of i) Floral Arrangements (hence, the indoor Garden Room); ii) Arts and Crafts (hence, the indoor Hobby Room); iii) Woodworking (hence, the indoor Carpentry Room and iv) Music Making in the Media Room. The rest of some 3,500 sq.ft. on this level is comprised of the Bedroom, Bathroom, Family Room (ah, the Fireplace) and Kitchen cum Laundry Room (practical); with direct walk-up access to the 2 Car Garage. Perfect! All this, with Lake View, and you can walk out to a Patio - this is what paradise is all about.
The Upper Level has a huge deck too - accessed from both the Master Bedroom and the Breakfast room. The spacious Living Room (another fireplace), Kitchen and Breakfast Room - along with the Large Deck enable all to celebrate life's best moments together, when they choose, amply and comfortably, and when the occasions arise.
11' Tray Ceilings, Heated Floors, Cable (think High Speed Internet), Municipal Services (Sewers, Water) and Private Harbour with Boating and Fishing in your backyard (Lake Katchewanooka, part of the Trent Severn Inland Waterway - connecting to Georgian Bay and Lake Ontario) this IS what paradise is all about!
Notes on The Region


The Village of Lakefield, located on the shores of the Lake Katchewanooka (water of many rapids), was first used as a seasonal camping ground for the Anishinabe. A walking tour of historic sites will take you past the former residence of Col. Samuel Strickland (Reydon Manor), Catherine Parr Traill and Margaret Laurence and to the Christ Church Community Museum. Lake Katchewanooka is part of the Trent Severn Inland Waterway - connecting to Georgian Bay and Lake Ontario.

The Village has gained worldwide prominence when Prince Andrew attended Lakefield College (founded 1879) in 1977.
Peterborough and the Kawarthas is a region known to have pristine lakes and the unusual Locks - the mechanism that allows boats to rise or fall, thus enabling access to the different altitudes of the Trent Severn Waterway.
The Home is walking distance to Lakefield College and only 10 Minutes to Trent University a renowned liberal arts school. Just 15 Minutes North of Peterborough, 30 Minutes to Ski Hills & 1½ Hours leisurely highway driving to Toronto & Toronto International Airport.
1.46 Seconds to Open with a 56.6 kbps modem
.15 Seconds to Open with a 56.6 kbps modem
GreatCanadianCountryEstates Home
Telephone: 416.441.2888 x 522 Cellular: 416.809.0909 /1.888.232.2088
Facsimile: 416-441-9926 Direct Fax: 1(866) 556-0823
Address: 2145 Avenue Road, Toronto, Ontario M5M 4B2 Canada
All information and statements contained here, provided by
Harvey Kalles Real Estate Ltd.
Brokerage
regarding property for sale, rental or financing is from sources deemed reliable and assumed correct, but no warranty or representation is made as to the accuracy thereof and same as is submitted subject to errors, omissions, changes in price, rental or other conditions, prior sale or withdrawal without notice.
Member of the Toronto Real Estate Board