Great Canadian Country Estates
East of Toronto
Northumberland County South
(40 minutes to 60 minutes from TO)
Port Hope
85 Victoria Street South, Port Hope ON Canada
Download Features (15MB)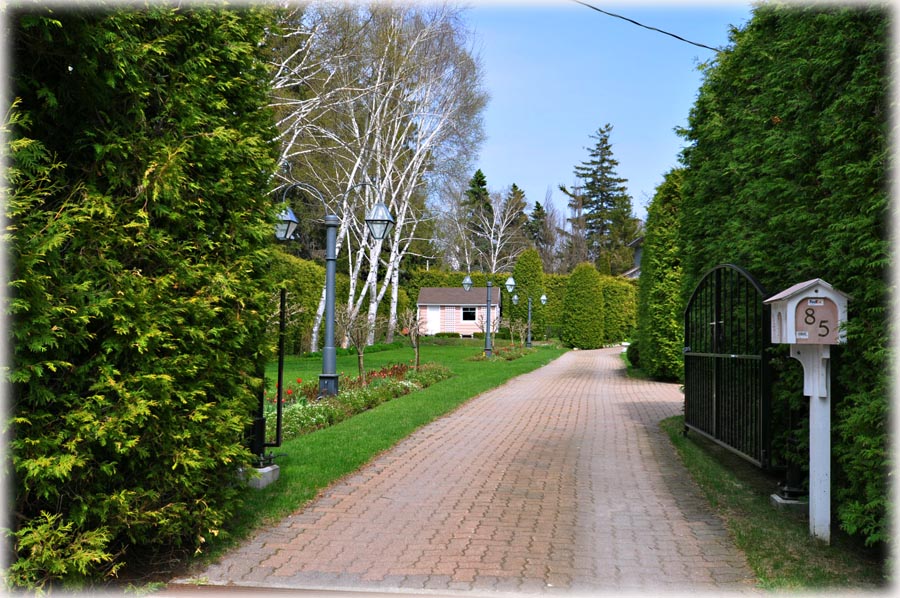 Commissioned by Arthur Williams for his Daughter in late 1800's
Fine Example of Italianate Architecture
Restored, Manicured Gardens, May Accommodate three distinct Families
Or One Large One
On a Cliff overlooking Port Hope Golf and Country Club and Lake Ontario

The distances below are measured by traveling time From Toronto in Hours

(Please Click on the Pictures for Full Details)
| | | |
| --- | --- | --- |
| | c 1890 | |
98 Ontario Street
CDN $895,000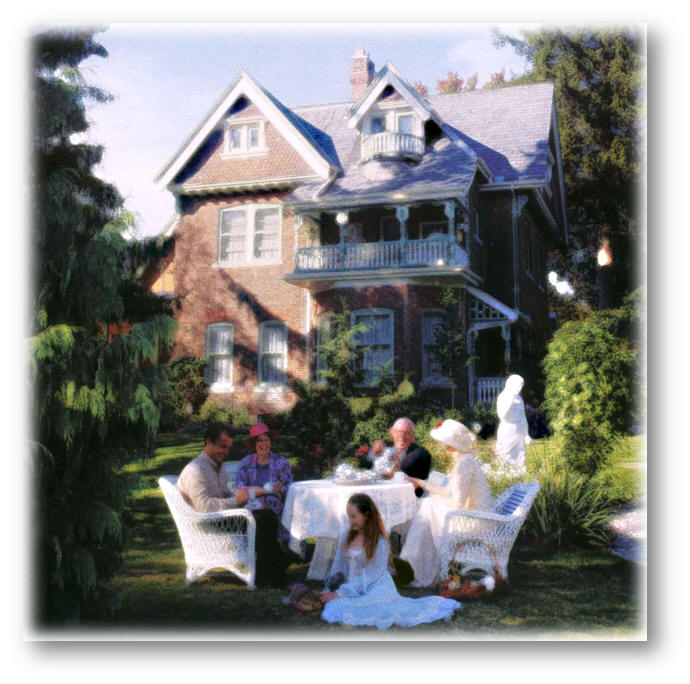 Magnificently Restored with New Extension totalling approximately 6,000 sq.ft. Originally home of T.A. Wickett, Founding Member of the predecessor to Canada Trust. New plumbing from Street & throughout the House. All new period light fixtures, new furnace with hi efficiency gas - roughed in for Central Vacuum. Chimneys rebuilt from Roof Line up. All new wrought iron fencing, professional landscape with interlocking brick circular drive. Cosy, understated yet refined.
3 Ward Street

A

Distinctively Opulent Home

Canadian $879,000 / ~ U.S. $785,000

Sold $934,000

PortHopeCentury Terrace-Gardens

~ One of the Remaining Last Few Remaining Century Home ~

Non-Designated Century Home

Canadian $695,900 / ~ U.S. at Par!

PortHopeTerracedRavineCenturyHome

~One of the Last Few Remaining Century Home~

Part of the Historical Smith Estate Tree Top View of Port Hope

Gutted and Renovated to Architectural Digest Model Perfection

In the midst of the most Chic-Chic Part of Town, Walk in Minutes to:

Fine Dining, Via Rail, Shops, Capital Theatre, Park and the "best" Latte in Northumberland

Unique Reverse Ravine; Terraced with Mature Trees - Yet Extremely Sunny

Private - on a Slow Rise (from the ordinary and mundane!)

Perfect for family and entertaining - Ideal for the Commuter (5 minute walk to Via Rail!)

<![if !vml]><![endif]>

Non-Designated Century Home

c 1868

<![if !vml]><![endif]>

Canadian $395,000 / ~ U.S. $353,000

<![if !vml]><![endif]>

Non-Designated Century Home

c 1800's

<![if !vml]><![endif]>

Canadian $850,000 / ~ U.S. $700,000

Sold

Simply Magical

TheHillandDaleCoachHousePortHope

39 - 41 Pine Street South

Circa 1847

| | | |
| --- | --- | --- |
| <![if !vml]><![endif]> | A Piece of History Pre Confederation Days in Loyalist Country | <![if !vml]><![endif]> |

Canadian $449,900 / ~ U.S. $300,000

Sold in a Week!

New England's Ravine in Port Hope 1.00 Sold

Tree Top Lake View, Antique Fire Place, Pergola with Flagstone Patio, Deck, Terraced Gardens

Two Cascading In-Ground Water Fountain, Gym with Spa, Wine Cellar, Magic Room

Elevated Platform Solarium, Master Sanctum Sanctorum with both Lake and Ravine View

( Canadian $428,000.00/~U.S. $286,000.00)

RoomsWithaView,PortHope 1.00 Sold

Circa 1847

Toronto's Own Renowned

Film Maker, Photographer, Writer's Country Home

( Canadian $595,000.00/~U.S. $397,000.00)

The Gardens of Brunhilde Ewing, Port Hope Sold Asking Dr. Spilbury's House, The Town Surgeon's Manor .88

Canadian $399,000.00/~U.S. $266,000.00

Courtesy of the Very Very Talented Mr. Simpson

<![if !vml]><![endif]>

Non-Designated Historical Home

c 1850's

<![if !vml]><![endif]>

Canadian $399,900 / ~ U.S. $266,600

One of the Last Remaining Century Home

Substantial Renovation & Addition

Sold

<![if !vml]><![endif]>

Non-Designated Historical Home

c Early 1900's

<![if !vml]><![endif]>

Canadian $269,900 / ~ U.S. $215,920

80 Hope Street North, Port Hope

~One of the Remaining Last Few Remaining Century Home~

Sold

<![if !vml]><![endif]>

Non-Designated Century Home

c 1895's

<![if !vml]><![endif]>

Canadian $369,900 / ~ U.S. $296,000

Circa 1874

Sold

A Distinguished, Elegant Beaux Arts Style Mansion

Atop a Hill with Panoramic View of Lake Ontario

Set in 4 Acres of Land with

Landscaped Grounds, Statues, Columns, Terraced Gardens, Waterfall, Inground Pool ....

Soaring Ceilings, 12 Fireplaces, Sauna, Whirlpool, Formal Dining and Living Rooms,

Separate Maid Quarters ......

The Manor on Walton, Port Hope Sold Licensed Tea Room (20 years in the making), Antique Shop, Bed & Breakfast A Veritable Cash Cow Canadian $475,000/~ U.S. $317,000 .90
2 Baldwin Street, Port Hope
| | | |
| --- | --- | --- |
| <![if !vml]><![endif]> | Non-Designated Georgian Century Home | <![if !vml]><![endif]> |
Canadian $1,280,000 / ~ U.S. $1,166,000
The Owner's Notes
The Bloomsbury Group was an important movement of writers, artists, designers, intellectuals, philosophers, economists, etc. in England, from the beginning of the 20th century through World War II. It began as a group of friends who had gone to Cambridge University together, and who frequently gathered at the home of the Stephens sisters in the Bloomsbury district of London. Virginia Stephens became Virginia Woolf, one of the most influential writers of the 20th century, and married to Leonard Woolf, a literary figure and publisher who founded the Hogarth press with Virginia.. Vanessa Stephens was an artist, who married art historian Clive Bell but shared a home at Charleston farm for most of her life with fellow artist Duncan Grant. Charleston was a country house that became the gathering place and weekend home of many of the group -- decorated and painted throughout by Vanessa, Duncan, Clive and others, who also created beautiful gardens. Other members fo the Group and visitors to Charleston included writer Lytton Strachey, artist Roger Fry, economist John Maynard Keynes, philosopher Bertrand Russell, poet T.S. Eliot, writer E.M. Forester... In Port Hope, Bloomsbury on Baldwin Street evokes the spirit of Virginia and Vanessa -- and reflects the style and ambience of Charleston Farm -- a place that is home to art and books, and a gathering place for eclectic groups of friends, country weekends, political gatherings, and conversation... in the house, in the gardens, by the pool and on the tennis court (considered by many visiting tennis lovers from around the world to be the most beautiful private court in Canada.
About the house -- the earliest part of the house was Georgian -- built in 1843 -- one of the earliest houses in this section of Port Hope which was known as Englishtown and was a garrison area for British soldiers. The earliest occupants were probably army officers. By early in the 20th century, the house was owned by Nicholson's File Factory, a major mill and employer in Port Hope at the time, and was occupied by the marketing and sales director of the factory. The retaining wall in the ravine on the North side of the house was created by literally hundreds of millstones and grinding stones from the file factory. In 1970,. the house was bought by Claude Fitzgibbons, a lawyer and colourful local character who added on the great hall, swimming pool, cabana and tennis court. Irv Bronfman was the next owner before us. We then bought the house, which had fallen into disrepair and restored the house and gardens and created Bloomsbury.

Back to GreatCanadianCountryEstates HomePage
Back to TheLingRegistry HomePage
Telephone: 416.441.2888 x 522 Cellular: 416.809.0909 /1.888.232.2088
Facsimile: 416-441-9926 Direct Fax: 1(866) 556-0823
Address: 2145 Avenue Road, Toronto, Ontario M5M 4B2 Canada