Powered by:
Richard K.C. Ling, Broker
Harvey Kalles Real Estate Limited, Brokerage
SolinaHills-WestLake Estates
Solina, Ontario
| | | |
| --- | --- | --- |
| | A Unique Exclusive SMART Executive Community | |
Municipal Addresses

Price

Canadian

U.S. (

App.

)

19 Eagle Court

$749,000.00

$500,000.00

Sweeping Vistas.
20 Eagle Court

$775,000.00

$517,000.00

Sweeping Vistas.

A Veritable Garden of Eden with a Stone Colour All Brick Home centered in 2.4 acres (not wired internally for local area network).

7 Dorset Street

$1.5 million

$1 Million

Developer's Home. Simply Magnificent with Pool, Decks and Waterfalls, Carriage House, 2 Lofts, Vaulted Ceilings +++

2 Dorset Street

$889,000.00

$593,000.00

Work-in-Progress
Bruce's, the boutique developer, works evoke memories of my formative years in California - "Never before it's time" loops the Napa Vineyard's motto in my mind's eye.
Since 1972, after a detour with projects spanning Quebec, Vancouver, Ottawa, Calgary, and Port Coquitlam, Bruce has fine tuned his passion for creating his masterpieces - one house at a time. "Why do you take one year to build a house when most other projects finishes in a fraction of that?" was my initial reaction. "Because I construct my homes one step at a time and inspect them vigorously each step of the way. If the standard is below my expectation, I will rip it off and reconstruct it again" was the response. It may sound a little "anal", but the result is a sterling reputation expanding through the region. "Did the developer build this home?" was put forth before one of the area agents booked an appointment to show a house.
I think Bruce is also a visionary. Westlake Estates was a creation out of his sheer will. Seduced by the magnificent acreage of rolling hills, green spaces and majestic vistas, balanced by his practical side of the incredible location - minutes from HWY401 and the planned exit of HWY407, shopping and restaurants on Taunton Road and the $39 million state-of-the-art New Recreational Centre in Harmony Road North, he bought the land from the Westlakes a decade or so ago. Obviously, the cognoscente in the region agree with him. The Estate Community is now home to the Who's Who in the business, banking, international executives and real estate establishments. I should add that a substantial number of the privileged denizens continues to pour hundreds of thousands to enhance their dwellings.
Some of Bruce's Special Features
(Please Click on the Thumbnail to Enlarge Picture)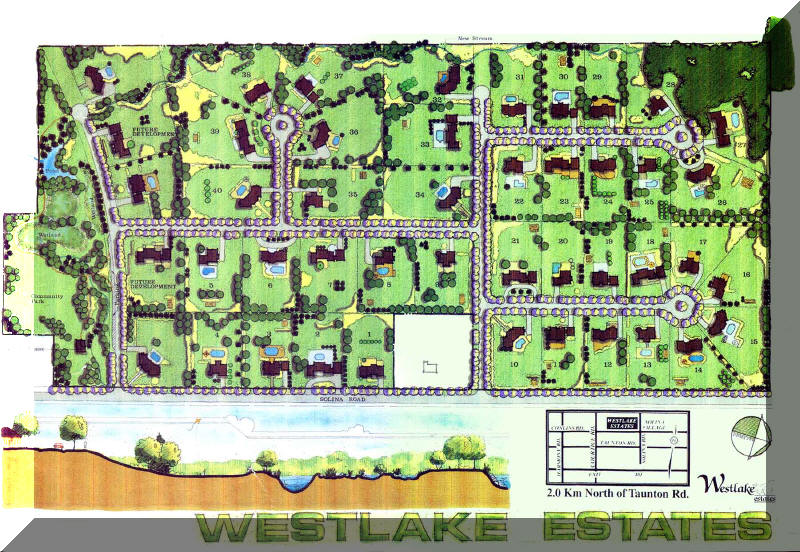 Telephone: 416.441.2888 x 522 Cellular: 416.809.0909 /1.888.232.2088
Facsimile: 416-441-9926 Direct Fax: 1(866) 556-0823
Address: 2145 Avenue Road, Toronto, Ontario M5M 4B2 Canada
Back to TheLingRegistry HomePage